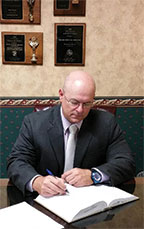 Rodney M. Kernan was born in Rockledge, Florida and graduated from Merritt Island High School. He worked briefly as a mechanic in a local business and then was hired by Lockheed in 1988 to work in the space program. While working for Lockheed, Rod attended Barry University and earned his Bachelors Degree in 1993. In 1996, he was accepted to law school and graduated from Touro Law Center in New York. While in law school, he was a Notes and Comments Editor for Touro's Law Review and was the Treasurer of the Irish Law Society.
After graduating from law school, Rod returned to Brevard and worked for the State Attorney's Office and then for the Public Defender's Office in Osceola County. After gaining trial experience with these two government offices, Rod worked for two Orlando law firms, gaining more criminal, traffic, and civil experience. In 2002, he opened his own practice in Orlando, which served hundreds of clients in the surrounding six counties. In 2005, Rod relocated his office to Brevard, but continues to serve clients in Central Florida. He is a member of the Florida Bar, the Brevard County Bar Association, and is a bar member of the U.S. District Court for the Middle District of Florida.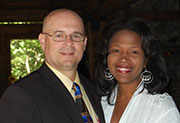 Rod's wife, Shara is also a practicing attorney in Brevard. Rod is a proud father of three daughters . His oldest daughter is a graduate of the University of Central Florida and is currently employed as a Computer Programmer. Rod's two younger daughters are currently finishing their studies at the University of Florida.
Rod is an avid motorcycle rider and car enthusiast. He is a lifetime member of ABATE, a non-profit organization of motorcycle enthusiasts. He participates in several motorcycle related events each year. Rod's collection of motorcycles includes a 2007 Harley Davidson Road Glide, 2000 Honda Shadow Aero, 1990 Kawasaki ZX10, 1964 Honda 305cc Superhawk and a 1965 305cc Honda Dream, along with a few other bikes and scooters. Rod enjoys restoring vintage motorcycles, as well as doing his own car repair and restoration work.
Rod has been member of a local dart league and enjoys spending time with family and friends in a variety of recreational activities from boating to mountain climbing. He recently climbed Mount Kilimanjaro in Tanzania, Africa.