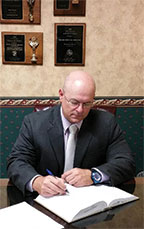 Rod Kernan was born in Rockledge, Florida in 1963. His parents, Roger, a Florida native and Shirley, originally from Virginia, raised him in Merritt Island during the "Space Race."  Roger worked for many aerospace companies like Convair, Northrop Grumman, Boeing, Rockwell, Lockheed and Lockheed Martin, working on many projects such as Mercury, Gemini, Apollo and Space Shuttle missions. Shirley sacrificed her career to take care of Rod and his younger sister Gina.  
Rod is an avid motorcycle and car enthusiast. While growing up, Rod's father put a wrench in his hand early on and he was on his way to rebuilding cars and motorcycles.  Starting at the age of 13 on weekends and part time and at 16 during summers, Rod worked for his uncle James, who had a well-drilling business and construction company. Rod was lucky to have learned the skills needed to do most aspects of building construction, electrical, plumbing, concrete and framing.  Those skills enabled him to build two homes as an Owner Builder; one in 1986 and one in 1994.
Rod graduated from Merritt Island High School where he was 1st Chair Trumpet in the 200 plus member band.  More than an awesome experience with great friends, he learned teamwork and discipline, at an early age.  After graduation, Rod attended Brevard Community College in pursuit of an engineering degree, while working full time.  In 1985 Rod worked at Re Nu Automotive, with his Step Father and owner, Larry, until he hired on with Lockheed in July of 1988 as a Space Shuttle Technician.  He began at Lockheed as a Tile Tech the first year, then transferred to the Vehicle side of the house to work with the Mid Body Crew doing tasks such as satellite configuration and installation, fuel cell installation and maintenance, structures repair, landing gear.  Later, Rod joined the Forward Crew with full maintenance of items such as Black-Boxes, Thrusters, Windows and internal configurations. Rod also worked in the Aft Department on occasion and at the Launch Pad when the Orbiter was awaiting launch.
During the early 90's Rod decided to finish his Bachelor Degree, so he enrolled at Barry University to work on a degree in business while working full time.  While working 2nd shift, Lockheed generously allowed him to leave work during the middle of shift and return to complete his shift after classes. He often worked until 2:00 am.  This went on for a couple of years until Rod graduated from Barry University in 1994. In 1995 Rod decided to attend law school and that is when he voluntarily left Lockheed Martin and made the risky decision to start law school.  While at Touro Law Center, Rod was a Notes and Comment's Editor on the Touro Law Review where he is a Contributor, New York State Constitutional Decisions: 1997 Compilation,14 Touro L. Rev. 895, 1197, 1252 (1998).  During his last term in 1998, Rod interned for the Honorable Denis Hurley, United States District Court, Eastern District of New York doing research and working on proposed opinions.
Upon graduation from law school, Rod moved back to Florida and took on some part time legal employment while preparing for the Florida Bar Exam.  He was fortunate to obtain employment with the Brevard County State Attorney's Office in 1999 as a Certified Legal Intern while awaiting the required Florida Ethics Exam so he could be sworn in.  On October 4, 1999, Rod was sworn into the Florida Bar and began his legal career. Soon after that, he started with the Ninth Circuit Public Defender's Office in Osceola County. After leaving the Public Defender's Office, Rod worked at a couple of Orlando law firms practicing in a wide range of areas regarding various criminal and civil issues including, contract, family, immigration, property, probate, collections, insurance litigation and administrative issues.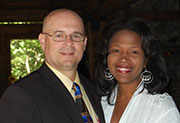 Rod is the proud father of three daughters. His oldest daughter graduated from the University of Central Florida, and the younger two graduated from the University of Florida.  His three daughters now live in New York City, with great careers, and the youngest has finished her Masters Degree.  Rod and his wife Shara, who is also a local attorney, live in Merritt Island.
Rod opened his solo law practice in 2002, handling mostly criminal, family and traffic, with the occasional small claims and eviction cases.  In 2010, Rod created Kernan & Austin, LLC with Rich Austin, currently serving Brevard County handling criminal, traffic and family matters.
"If elected to serve Brevard County as a County Court Judge it will be my honor to serve by upholding the law while maintaining integrity, civility and humility." ~ Rod Kernan